Under the nom de guerre of "Kiritan Flux" I performed as a live visual artist and VJ in Berlin and beyond from 2004 until 2021. My VJ work ranged from visual shows at prominent techno events such as Time Warp or Sonus Festival to more conceptual live-cinema performances tailored to their unique local context.
flux [flûks], n. Lat. fluxus, fluo, fluxi.

The act of flowing; the motion or passing of a fluid.
The moving or passing of any thing in continued succession.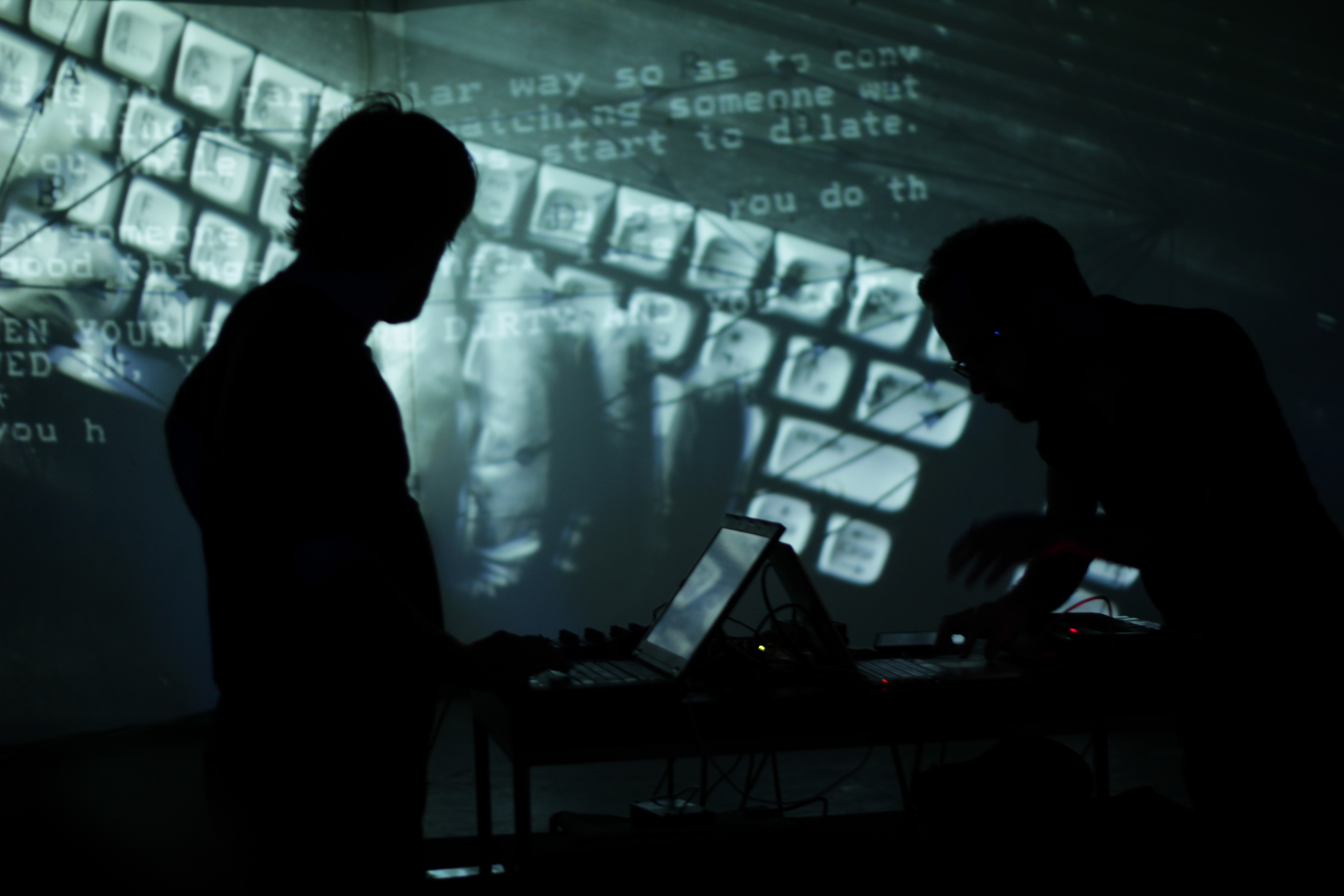 History
=======
09/2019 / Connect / Düsseldorf / DE
08/2019 / Sonus Festival / Pag / HR
07/2019 / Love Family Park / Rüsselsheim / DE
04/2019 / Time Warp / Mannheim / DE
10/2018 / Connect / Düsseldorf / DE
09/2018 / Electronic Beats Festival / Budapest / HU
08/2018 / Sonus Festival / Pag / HR
07/2018 / Love Family Park / Rüsselsheim / DE
06/2018 / Jewish Culture Festival / Kraków / PL
04/2018 / f(t) Festival / Berlin / DE
04/2018 / Time Warp / Mannheim / DE
02/2018 / Ori @ Rotbart / Berlin / DE
03/2018 / Kater Impromptu / Berlin / DE
10/2017 / Ori @ Villa Neukölln / Berlin / DE
11/2017 / Live Session #Instantboner / Berlin / DE
09/2017 / Live Session #Instantboner / Berlin / DE
08/2017 / Sonus Festival / Pag / HR
08/2017 / Cables of Love / Berlin / DE
07/2017 / Jewish Culture Festival / Kraków / PL
04/2017 / Time Warp / Mannheim / DE
12/2016 / Performance Arts Festival / Berlin / DE
10/2016 / Clujotronic / Cluj-Napoca / RO
08/2016 / Sonus Festival / Pag / HR
07/2016 / Love Family Park / Rüsselsheim / DE
04/2016 / Time Warp / Mannheim / DE
03/2016 / Reflections Through Conduction / Berlin / DE
12/2015 / Dérive Performance / Auroville / IN
12/2015 / Scriptorium / Berlin / DE
11/2015 / DOKFest Lounge / Kassel / DE
10/2015 / #Adapter / Kremenchug / UA
10/2015 / Tipografia / Chisinau / MO
08/2015 / Sonus Festival / Pag / HR
07/2015 / Love Family Park / Rüsselsheim / DE
04/2015 / Time Warp / Mannheim / DE
02/2015 / Reconstruction With Art / Timisoara / RO
01/2015 / Scope Vorspiel / Berlin / DE
10/2014 / Time Warp / Utrecht / NL
09/2014 / Clujotronic / Cluj-Napoca / RO
08/2014 / Sonus Festival / Pag / HR
07/2014 / Love Family Park / Rüsselsheim / DE
04/2014 / Time Warp / Mannheim / DE
02/2014 / 5 Years OFF Recordings / Berlin / DE
02/2014 / Unrender / Berlin / DE
08/2013 / Sonus Festival / Pag / HR
07/2013 / Love Family Park / Rüsselsheim / DE
07/2013 / Wyjście Alternatywne / Zduńska Wola / PL
04/2013 / Time Warp / Mannheim / DE
11/2012 / Patchlab / Kraków / PL
10/2012 / Intergalactic Fairy Tale @ Chalet / Berlin / DE
08/2012 / Bonnie Bravo / Berlin / DE
12/2011 / Freemote / Utrecht / NL
08/2011 / Luft und Liebe / Berlin / DE
07/2011 / Total Green Party / Berlin / DE
06/2011 / Luxus für Alle @ 48h Neukölln / Berlin / DE
04/2011 / Typographic Architecture / Berlin / DE
11/2010 / Did We Meat? / Berlin / DE
08/2010 / Luft und Liebe / Berlin / DE
06/2010 / VisualBerlin Festival / Berlin / DE
04/2010 / 1 Year Betahaus / Berlin / DE
10/2009 / Disonancie Cognitiva / Berlin / DE
09/2009 / Atoms & Bits @ Betahaus / Berlin / DE
08/2009 / Cadavre Exquis / Berlin / DE
06/2008 / Lauter Festival
09/2008 / "Coulrophobie" - Pulp Mansion / Berlin / DE
06/2008 / FF Bots Will Invade Your B-Rain @ LPM / Roma / IT
12/2007 / DMY Designer Dinner @ Kunstfabrik / Berlin / DE
10/2007 / Club V "Battle" @ Spindler & Klatt / Berlin / DE
09/2007 / "Weltherrschaft" @ LPM / Roma / IT
08/2007 / VisualBerlin AV Night @ K:ITA / Berlin / DE
08/2007 / "Badespaß" @ 5 Meter Bar / Berlin / DE
06/2007 / Davidoff Night @ Spindler & Klatt / Berlin / DE
05/2007 / "Designmai Punksters" @ DMY / Berlin / DE
03/2007 / "Nep Konijn" @ Consortium / Amsterdam / NL
03/2007 / "Nep Konijn" @ Ekko / Utrecht / NL
12/2006 / Break It Loose Casino Cosmonaut / Heidelberg / DE
12/2006 / AVIT>C23 @ BCC / Berlin / DE
11/2006 / "The Italian Job" @ LPM / Roma / IT
10/2006 / Club Couch Opening @ ZMF / Berlin / DE
09/2006 / Wizards of OS @ Columbia / Berlin / DE
07/2006 / "Wrozlaw Parano" Era Nowe Horyzonty / Wrozlaw / PL
05/2006 / Reanimation @ KKH / Pasewalk / DE
05/2006 / 6 Jahre Imperium @ White Trash / Berlin / DE
04/2006 / Freaks, Friends & Players Festival / Bremen / DE
03/2006 / Storage / Berlin / DE
02/2006 / Das Imperium lädt ein / Berlin / DE
12/2005 / Break It Loose Casino Cosmonaut / Heidelberg / DE
11/2005 - Break It Loose @ Barista / Oldenburg / DE
11/2005 / Goodlife / Berlin / DE
10/2005 / Bermudavisualisten / Berlin / DE
07/2005 / Rafgier presents "now 2005" / Berlin / DE
07/2005 / Dr. Motte's Klangturm / Brandenburg Havel / DE
06/2005 / 2 Years Goodlife / Berlin/ DE
06/2005 / Campus Vibration II / Brandenburg Havel / DE
05/2005 - Break It Loose @ Barista / Oldenburg / DE
05/2005 / Rafgier / Berlin / DE
04/2005 / Acedia Labelnight / Oldenburg / DE
02/2005 / Goodlife / Berlin / DE
01/2005 / 1 Year Rafgier / Berlin / DE
12/2004 / Break It Loose Casino Cosmonaut / Heidelberg / DE
11/2004 / Rafgier / Berlin / DE
10/2004 / Break It Loose Salon Jürgenz / Oldenburg / DE
08/2004 / Boom Festival / Idhana a Nova / PT
07/2004 / Rafgier Destroy euRoClAsh / Berlin / DE
07/2004 / Neon Nights / Berlin / DE
07/2004 / EM-Lounge / Berlin / DE
07/2004 / Zentrale Randlage / Berlin / DE
07/2004 / Contact Europe VJ Festival / Berlin / DE
07/2004 / Break It Loose Salon Jürgenz / Oldenburg / DE
05/2004 / Break It Loose Salon Jürgenz / Oldenburg / DE
05/2004 / Sony Style Store / Berlin / DE
12/2003 / Break It Loose Casino Cosmonaut / Heidelberg / DE